About Us
Days of Knights is a not-for-profit educational organization that hosts and organizes the annual living history timeline event of the same the name.  The first Days of Knights took place in Frankfort, KY in 2012 and has been held each year since, alternating between Frankfort and Oak Grove, Kentucky. Future events, beginning in 2018, will be held at a yet to be determined location.
Living History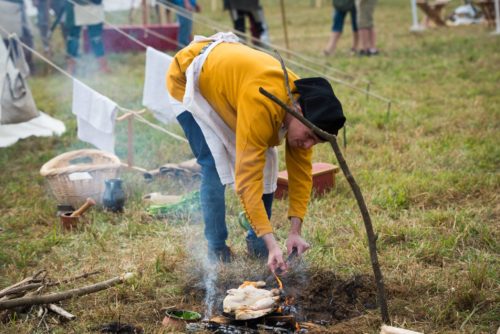 What is "Living History?" To quote from Wikipedia: "Living history is an activity that incorporates historical tools, activities and dress into an interactive presentation that seeks to give observers and participants a sense of stepping back in time. Although it does not necessarily seek to reenact a specific event in history, living history is similar to, and sometimes incorporates, historical reenactment. Living history is an educational medium used by living history museums, historic sites, heritage interpreters, schools and historical reenactment groups to educate the public or their own members in particular areas of history, such as clothing styles, pastimes and handicrafts, or to simply convey a sense of the everyday life of a certain period in history."
For the Public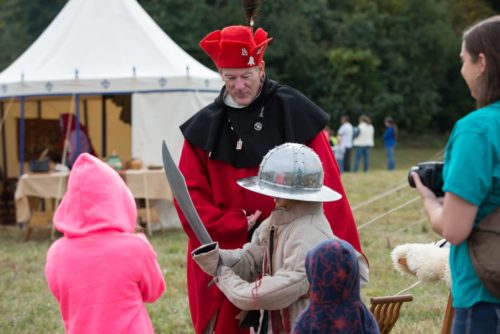 Days of Knights is one of the largest medieval-focused living history events in the country!  Our event is organized as a 'timeline.'  The event itself covers a considerable portion of the Middle Ages, from roughly the Viking Era to the beginning of the Renaissance.  Our re-enactors set up historically accurate camps along the timeline in chronological order so that visitors may experience the progression of time through the Medieval Era.
Visitors are encouraged to stop and visit with each of the historical interpreters who are more than happy to explain their 'impressions' and the material culture found in their camps.  Most are willing to let people handle objects, try on armor, and experience the Middle Ages for themselves (please be polite and ask first).  In addition to the individual camps, educational presentations and demonstrations will be taking place throughout the day.  Examples of these include our 'Armor Through Time' presentation that shows how military kit worn by the men-at-arms of their respective eras progressed over 800 years of history, or our regularly occurring Armored Combat demonstrations where you can see how fully armored fighters really fought with respect to historical technique and equipment in un-choreographed bouts!
The event is open to the public, and anyone interested should come and see us!  To avoid confusion we ask that the public refrain from wearing costumes to the event.
For Prospective Reenactors
Anyone interested in getting involved as a living history re-enactor will need to review the standards of historical accuracy and pre-register for the event.  They are also encouraged to introduce themselves in our public Facebook group.  No walk-ons will be permitted to interpret, they will be asked to leave!

Photo Gallery of Past Events: